Winter Ball 2018
Thursday, December 13th
6:00 PM - 8:00 PM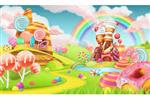 "
Candyland

"

It is our desire that the evening will be a fun and enjoyable one for all.

Decency in behavior and dress is expected and will be checked when you arrive.

Ticket Sale Dates: December 3 to December 13 (as available) $10.00

Tickets will be sold during lunch in the quad area.

NO TICKETS WILL BE SOLD AT THE DOOR

Eligibility: Only Eligible ACMS 7th and 8th Grade students may purchase their own ticket. Only Eligible ACMS students allowed at the dance. Students must be present at school for the entire day (doctor/dentist note required if student leaves school). Eligibility for the dance is based on the following-

You must have:
Must have at least a "C" in citizenship for Semester 1
Minimum 2.0 GPA for Semester 1
Must have at least a "C" in citizenship and a 2.0 for Semester 1 on the day of the dance to attend.
Dress Code Guidelines:
Ladies: Informal party dress, dress pants, or a skirt and biouse.
Strapless, low-cut, spaghetti strap, backless, or cut-out dresses are NOT permitted.
Dress or tops without sleeves must have a 1" minimum width strap.
No sheer or see-through clothing
Open-toed shoes may be worn, but must have a back strap. No excessive high heels.
Gentlemen: Casual dress pants with a sweater or a collared shirt.
The following items will NOT be allowed in the dance: tuxedos, t-shirts, hats of any kind, or any clothing item that disrupts the dance.
**VIOLATION OF DRESS CODE IS CAUSE FOR NON-ADMITTANCE OR REMOVAL** NO REFUNDS
Transportation: Transportation to and from the dance is limited to the standard family vehicle. The dance starts at 6:00 PM and ends at 8:00 PM. Doors open at 5:45 PM! Please make arrangements before the dance for students to be promptly picked up by 8:00 PM. No phones will be available.
Photos: There will be a photo booth for purchase and the cost varies from $2.00 to $5.00 for large groups.
Food: There will be snack items (chips, candy) and fruit punch included in the admission price. However, there will be additional snack items for sale (pizza, soda, candy, chips).