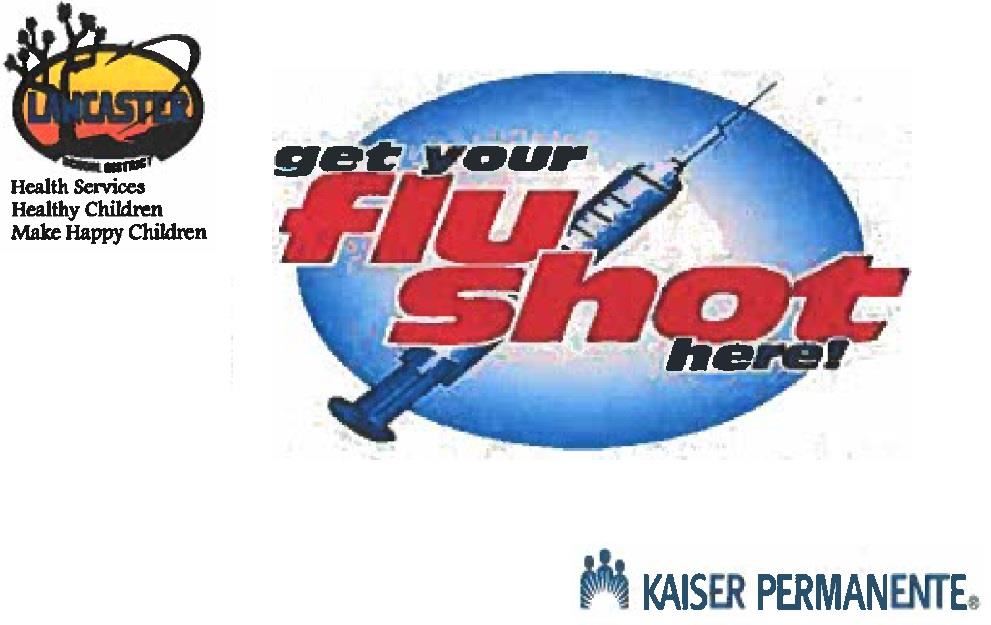 Lancaster School District in collaboration with Kaiser Permanente is offering FREE Flu vaccine clinics for students (the nasal spray will also be available this flu season).
Where? Mariposa Computer Science Magnet School
When? Thursday, November 14, 2019
What's needed? A signed parent consent form – you can pick these up at the school or print them from link below.
Consent forms must be received by October 25, 2019.
----------
El Distrito Escolar de Lancaster en colaboración con Kaiser Permanente está ofreciendo clínicas GRATUITAS de vacunas contra la gripe para los estudiantes (el aerosol nasal también estará disponible esta temporada de gripe).
¿Dónde? Mariposa Computer Science Magnet School
¿Cuando? Jueves 14 de Noviembre de 2019
¿Qué se necesita? Un formulario de consentimiento firmado por los padres: puede recogerlos en la escuela o imprimirlos desde el enlace a continuación.
Los formularios de consentimiento deben recibirse antes del 25 de Octubre de 2019.