Traffic Change Notice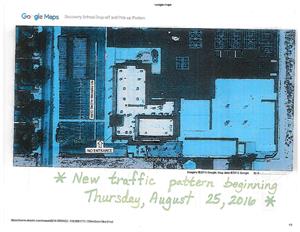 Dear parent(s)/guardian(s),
We would like to inform you that beginning on Thursday, August 25, 2016 the traffic pattern in the front of the school will be changing. The drive thru lane directly in front of the school will no longer be an area where vehicles may drop-off or pick-up students. We are making this change due to the safety of our students. We ask that you utilize the parking lot and park your vehicle and please walk with your child to and from the school. We appreciate your understanding and consideration with this change. It is with the best interest to keep all of our students' welfare our top priority.
Sincerely,
Mrs. Lee & Mrs. Dub
Discovery Administration
Estimados Padres/Tutores,
Nos gustaria informarle que a partir del Jueves, 25 de Agosto de 2016 el patron de trafico en frente de la escuela cambiara. La unidad a traves del carril directamente enfrente de la escuela ya no sera un area donde los vehiculos pueden dejar o recojer estudiantes. Estamos haciendo este cambio debido a la seguridad de nuestros estudiantes. Le pedimos que utilize el lote de estacionamiento y estacione su vehiculo y porfavor camine con su hijo o hija de ida y regreso a escuela. Es con el mejor interes mantener el bien estar de todos nuestros alumnos que es nuestra prioridad principal. Agradecemos su comprension y consideracion con este cambio.
Sinceramente,
Sra. Lee y Sra. Dub
Administracion de Discovery