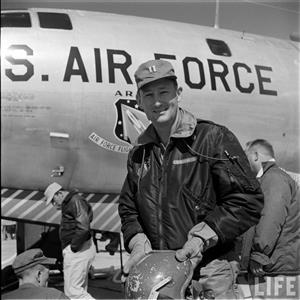 Phone:
Email:
Degrees and Certifications:
Lt. Col. Fitz Fulton

Fitz Fulton flew 235 different kinds of airplanes over a long career for the Air Force, then NASA, and then for Scaled Composites. He was awarded the Harmon Trophy by President Lyndon Johnson for being the world's most outstanding aviator in 1962, and he was the B-52 mother ship pilot for the X-15 hypersonics program at Edwards, where he worked alongside Neil Armstrong. He passed away at the age of 89 in Thousand Oaks, after having lived for most of his life in Lancaster. His now out-of-print autobiography, Father of the Mother Planes, tells the story of his work in the Berlin Airlift, the Korean War, and in flight test at Edwards. Matchbox, the toy company, produced a collector's airplane, an F-104, with Lt. Col. Fulton's name on it.

CLICK HERE to watch a YouTube video about Lt. Col. Fulton.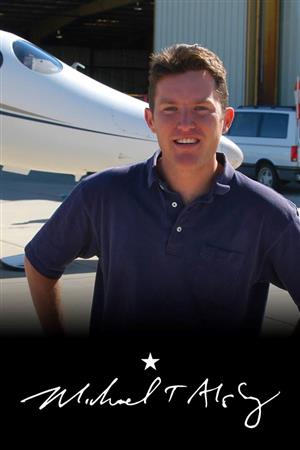 Phone:
Email:
Degrees and Certifications:
Astronaut Mike Alsbury

Born March 19, 1975, in Scotts Valley, California, Michael Tyner Alsbury earned a bachelors degree in aeronautical engineering from Cal Poly San Luis Obispo. Mike worked as an engineer and test pilot for many experimental aircraft configurations including the Proteus high-altitude aircraft, the White Knight carrier aircraft, the ARES battlefield attack aircraft demonstrator, the Firebird (aka "Old School") optionally piloted prototype, the WhiteKnightTwo mothership, and yet-unnamed secret projects. Mike also supported testing and development of the SpaceShipOne spacecraft. He was a member of the Society of Experimental Test Pilots (SETP) and in 2013 won the Ray E. Tenhoff Award for most outstanding technical paper presented at the SETP symposium. In 2014, Mike was on the team that was awarded the Northrop Grumman Aerospace Systems President's Award for exceptional performance and achievement in innovation. He logged more than 2,000 hours as pilot in command during his 16 years of flight experience. Mike was the copilot of SpaceShipTwo Enterprise, which was engaged in developmental flight tests of a nylon/nitrous oxide hybrid rocket motor system. The flight was to be a final stepping stone in the SpaceShipTwo experimental development program prior to commercial spaceflight operations.

On October 31, 2014, at 39 years of age, Michael T. Alsbury made the ultimate sacrifice and lost his life in pursuit of making real the dream of space travel for all humankind. His name was added to the Space Mirror Memorial at the Kennedy Space Center in January 2020. He was posthumously awarded commercial astronaut wings by the FAA.

The Astronaut Memorial Foundation published a tribute video in his honor which you can view HERE.